Quality Policy
KINGWEI Electronics, which focuses on manufacture, research and development and in sales service process, is also diligently unremitting to the environmental protection work. In order to coordinate the management and operation tendency, the ISO9001, ISO/TS16949:2002 quality control system has established, product quality control systems and the ISO14001 environmental protection management system and the green design(Design for Environment) purchasing, manufacturing, pursue with continues development of the foundation, also devotes to achieve customer satisfaction and the creation highest profit. Driving each quality and the environmental protection work, training and the guidance are request for all staff and to participate, communications of this policy to the external counterparts with encouragements to the supplier to participate optimistically
Accomplish customer satisfaction and associate environmental protection laws and regulations
With regards to fulfill the high quality and the Green Design's 3R rule Reduce, Recycle, Reuse in the research & development, and the manufacture service process, as well as satisfying our customer's expectation, we continuously request and encourage our counterparts to adhere on the environmental protection and to participate in the related environmental protection laws and regulations
Established prevention of pollution and flow management
Prior to the establishment on prevention of cost, which shall avoid the accidental to pollute the environment and to influence the management; Each work flow ought to controls the input & setup quality, prepares for and the prevention works of the crises, it reduces production cost, the yield cost, the refurbish and reproduction cost.
Pursues the remarkable product and the achievements of environmental protection
Pursuing and advancing the P-D-C-A circulation process in order to boost our managerial process and cost effectiveness. We dedicate ourselves with the spirit of the unremitting positive inquisition, and with regards to the reduction of waste materials in the idea of environmental protection also, carried out with the quality improvement.
Quality manifesto
Seeking truth from fact; Rising Quality; Customer First; business continuity
Meet Customers' Expectation & Environmental Protection
Implement Prevention of Pollution & Root Process Management
Pursue the Excellent Products & Environmental Performance
Our quality authentication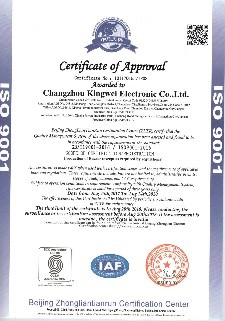 This is to certify that the Quality Management System Certificate, has been approved by CEPREI Quality Assurance to the following Environmental Management System
Standards:ISO 9001:2000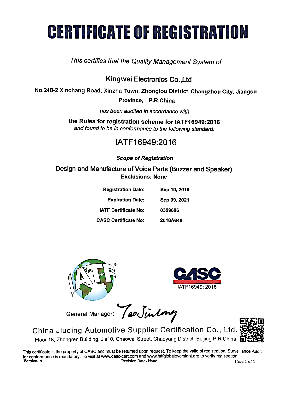 This is to certify that the Quality Management System Certificate, has been approved by CASC Quality Assurance to the following Environmental Management System
Standards:ISO / TS16949:2002